Book review
Paul Bodine: Perfect Phrases for Letters of Recommendation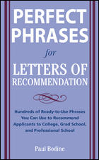 If you are a teacher, professor, or employer, you often receive inquiries to provide letters of recommendation or reference. It is not always easy to find the right words to convey your honest opinion on someone. "Perfect Phrases for Letters of Recommendation", is meant as a reference book for this particular situation. The author, Paul S. Bodine, is one of the most successful admissions consultants in the US, with 20 years of experience, and his clients regularly make it into top-tier schools such as Harvard, Yale or Stanford.
The book is not, as one might think, a collection of separate sentences that would help the reader convey specific meanings. It rather offers full paragraphs, sometimes full sections of a letter of recommendation. The topics span from how to introduce a candidate in the letter, describing their core strengths – whatever those may be – to how the perfect conclusion should look like.
As most snippets are full paragraphs, the book will not offer immediate help with singular questions such as: "How do I write that he was smart and creative?" However, as an upside to this approach, even though finding the right phrase may take a bit longer, both the structure of whole sections and the phrases in them serve as good inspiration for writing a recommendation letter; very similar to the sample letters of recommendation here on this website.
In essence, this book is a helpful resource for anyone who is already working with this website's easy-to-use tool to write a letter of recommendation.
Perfect Phrases for Letters of Recommendation
Paul Bodine
McGrawHill
ISBN: 978-0-07-162654-5 (0-07-162654-9)
Get this book on Amazon now!