Book review
Timothy Ferriss: The 4-Hour Body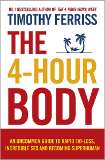 "The 4-Hour Body" is a book for rule-breakers. Much alike his previous effort, "The 4-Hour Workweek", Timothy Ferriss throws conventional wisdom over board to help you achieve your goals in an unorthodox fashion. Is eating less and doing more cardio training the best way to lose weight? Is lifting more weight more often the only way to increase strength and muscle mass? Do you have to train a marathon to run a marathon? And is sleeping 8 hours at night the most effective way to sleep?
Often enough, the answer is "no", or at least: "not always". There are tweaks in biochemistry, movement, scheduling etc. that grant you more power over your body's destiny. The author gives a glimpse into the scientific workings of your body and often references scientific studies supporting interesting hypotheses.
The book is a collection of separate chapters with different themes, some of which are connected, some of which are not. Whether you are mostly interested in decreasing your weight, increasing muscle mass, improving your love life or perfecting your sleep pattern, you can find multiple entry points for reading and experimenting. Ferriss repeatedly urges the reader not to simply believe him, but try things for themselves. Consequently, each chapter is not only filled with expert interviews, but also sources for further reading, so that you can back up the sometimes ludicrous claims in the chapters themselves. Be prepared to be surprised.
The 4-Hour Body
Timothy Ferriss
Random House
ISBN: 978-0-09-193952-6
Get this book on Amazon now!